The Bank of Canada is serious. They are committed to increasing interest rates to fight inflation at all costs. But how can you reduce your mortgage payments if you're up for renewal or have a variable rate mortgage?
This is how you can save money and reduce your mortgage payments.
#1 Increase your mortgage amortization
Extending the amortization period for your mortgage can help keep your monthly payments in check, even as interest rates rise. However it's important to know that you will end up paying more interest in the long term.
For example if you took out a mortgage 5 years ago you have the option to take out a new mortgage over a 30 year period starting today. This would reduce your monthly payment but take extra time to repay your loan.
When you extend your amortization period you could also consolidate other high interest debt in your mortgage. This will depend on your credit score and current financial situation.
#2 Use a mortgage broker for your renewal
Using a mortgage broker gives you access to a variety of lenders all with 1 easy application. This gives you many mortgage options to choose from and access to lenders that provide more favourable terms and lower payments.
Monolenders are an example of lenders that you can only access through a mortgage broker. If you're only using the big banks then be sure to take advantage of a broker to see all the options available to you.
Ready To Find The Best Mortgage?
Start your mortgage journey with local Halifax best selling author, & mortgage broker; Alex Lavender.
Choose from multiple lenders
Pick the best mortgage for you
All with 1 easy application!
Start Here
#3 Change your mortgage type
While no one has a crystal ball, changing your mortgage type could result in helping keep your mortgage payments low.
In Canada the 2 main types of mortgages are fixed and variable rate mortgages and there are also open vs closed term mortgages.
Fixed mortgages provide you with the security of locking in an interest rate for the term of your loan (ranges between 1 – 5 years). You'll know exactly how much principal and interest you'll be paying during this term.
Variable mortgages fluctuate your payments as the bank of Canada's prime rate changes. Variable rate mortgages statistically will result in you paying less over the long term. However when interest rates are rising you could end up making larger payments in the short term.
#4 Pull out funds to pay down other debts
If your total monthly liabilities include high interest debts from credit cards, card payments, and lines of credit. You can consider pulling out funds from your home equity to pay down these high interest debts.
This could reduce your overall monthly payments and reduce the amount of interest you pay every month. Have a conversation with your mortgage broker to see how this can reduce your overall monthly commitments.
#5 Pull out funds to put in an account to offset payments
Similar to #4 if you do not have other high interest debt obligations, but foresee struggling with increasing mortgage payments. You may be able to reduce your monthly payments by refinancing and putting these funds into a separate high-interest savings account.
This gives you a pool of cash to use if your mortgage payments are increasing beyond your capabilities. Be sure to talk to your mortgage broker to see if this is an option that would work for your situation.
Bonus idea! Rent out part of your house!
Many people are turning to creative ideas to use their homes to create revenue to help offset your mortgage payments. Renting out a garage as storage space, parking space rentals, and short term Air Bnb rentals are all unique ways that people are generating monthly income with their homes.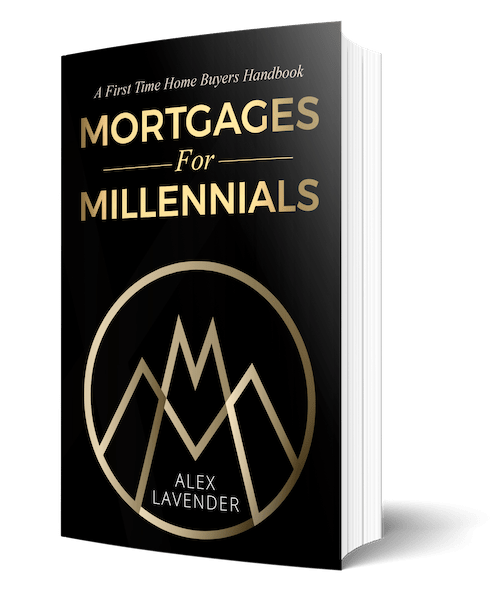 Download Your Free Copy Of Mortgages For Millennials
Best selling author, and mortgage broker; Alex Lavender wrote Mortgages For Millennials for 1 simple reason. To help Millennials understand everything about getting a mortgage in Canada. Now Alex is giving his book away for free!
It's the quick and dirty way for you to learn everything there is – without the hassle of spending hours going down the wrong rabbit holes online.
DOWNLOAD FOR FREE